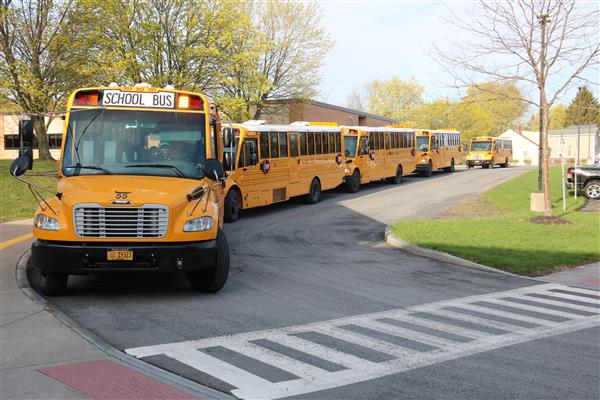 The Port Byron School District recognizes the importance of safe and efficient transportation of students to and from school. Starting this year, we will be on a single trip arrival and dismissal comprised of 12 morning and afternoon routes covering the 75 square mile school district. We also provide transportation to multiple other districts for special education and parochial school. Port Byron buses also transport students to almost 300 field trips and athletic events throughout the school year.

Port Byron CSD also provides transportation during the summer for multiple programs both in and out of the district.

School Bus Pick-Up and Drop-Off Times

---

Port Byron CSD Transportation Guidelines

Port Byron Central School District's Transportation Department recognizes the importance of safe transportation of students to and from school.

To provide a safe and orderly bus environment, students are expected to follow appropriate bus behavior. When problems arise, the transportation staff will inform parents as quickly as possible. Parents are encouraged to review and reinforce appropriate bus behavior with their children.

If you have any questions, please contact the Transportation Department at 315-776-5728 x1316.

Student Responsibilities

Be prepared 10 minutes before normal time; arrive at the bus stop five minutes early.
Be respectful of the property of others at the bus stop.
Students should be visible as the bus approaches the stop. Wait for the bus away from the road and, before moving towards the bus, wait for it to come to a complete stop.
Follow proper crossing and discharge procedures when entering and exiting the bus.
After boarding the bus, sit down in the first available seat so the bus can continue safely on its route. Remain seated during the entire ride.
Do not throw anything inside or out of the bus.
Keep the bus clean.
Do not bring articles that create a hazard.
Keep the aisle of the bus clear at all times: if you carry a musical instrument or school project, you must make sure it will fit on your lap in the seat with you.
Do not distract the bus driver and obey the bus driver's instructions.
Use proper conduct; horseplay, foul language, and fighting will not be tolerated.
Become familiar with all emergency procedures.
Report concerns to the bus driver, parent, principal, or teacher.
Contact
Corey Rooker
Transportation Supervisor
Phone: (315) 776-5728 x1316
After-hours emergency: (315) 776-6113
crooker@pbcschools.org