Return to Headlines
McNally and Jump Named Valedictorian and Salutatorian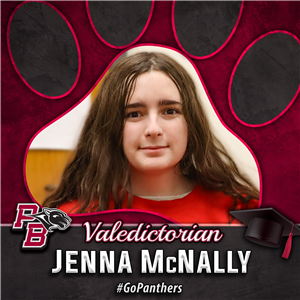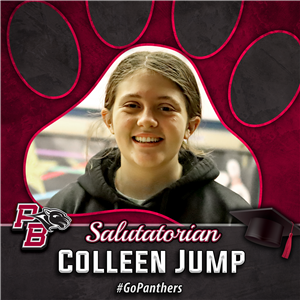 Port Byron High School has announced the Valedictorian and Salutatorian for the Class of 2023.
Valedictorian Jenna McNally
Jenna McNally is ranked first out of 61 students in the Port Byron class of 2023.
In order to reach this status, McNally has been successful in taking higher weighted classes offered by the school district. She has taken several Advanced Placement (AP) classes, scoring fives on the exams indicating mastery of the subject matter. McNally is also challenging herself further by taking an online AP Computer Science class.
In September of 2022, McNally was named a National Merit Scholarship Semifinalist. A few weeks ago, she also learned that she was a National Merit Scholarship Finalist. Less than one percent of students scoring in the top one percent on their PSATs are awarded a National Merit Scholarship.
Throughout her time at Port Byron, McNally has participated in a variety of different clubs and activities. She has been a member of drama club for the last five years, and this year she is part of the technical crew and will be running sound for Mamma Mia.
She also participates in student government, environmental club, international club and Masterminds, where she was named a VIP.
McNally has been accepted into the Bowers College of Computing and Information Science at Cornell University. She plans to study to become a software engineer.
Salutatorian Colleen Jump
Colleen Jump is ranked second in the graduating class of 61 students.
Also an ambitious student, Jump has taken all advanced level classes since eighth grade. She has also taken all the AP classes offered by the school district. She will graduate with more than 20 college credits.
Jump has had many accomplishments throughout high school, both in academics and in sports. Most recently, she bowled the highest series in all of section IV girls bowling. Her team did well too.
"We came in first place at the state qualifiers in our division, so we qualified for states as a team," Jump said.
Jump is also a cast member in this year's HS musical, Mamma Mia. She will play Rosie, one of the Dynamos. She will have logistical problems with the Sunday show because she will be competing in the NYS Bowling Championships in Syracuse. Jump said that her understudy is ready to step in for that performance.
Jump is no stranger to NYS sporting competitions. She was part of the Port Byron girls' field hockey team that made it to the semifinal round of this year's state championship. Next, Jump said that she is looking forward to softball season.
Jump has also participated in student government, band, choir, stem club and drama club throughout her years at Port Byron.
After graduation she plans to go to college and study secondary education with a concentration in mathematics. She also hopes to bowl collegiality.
"Jenna and Colleen are both dynamic individuals," Guidance Counselor Tracey Pirozzolo said. "They have had outstanding academic success here at Port Byron. The rankings were so close between the two it was a toss-up until the end of the second quarter of senior year. Congratulations to them both."